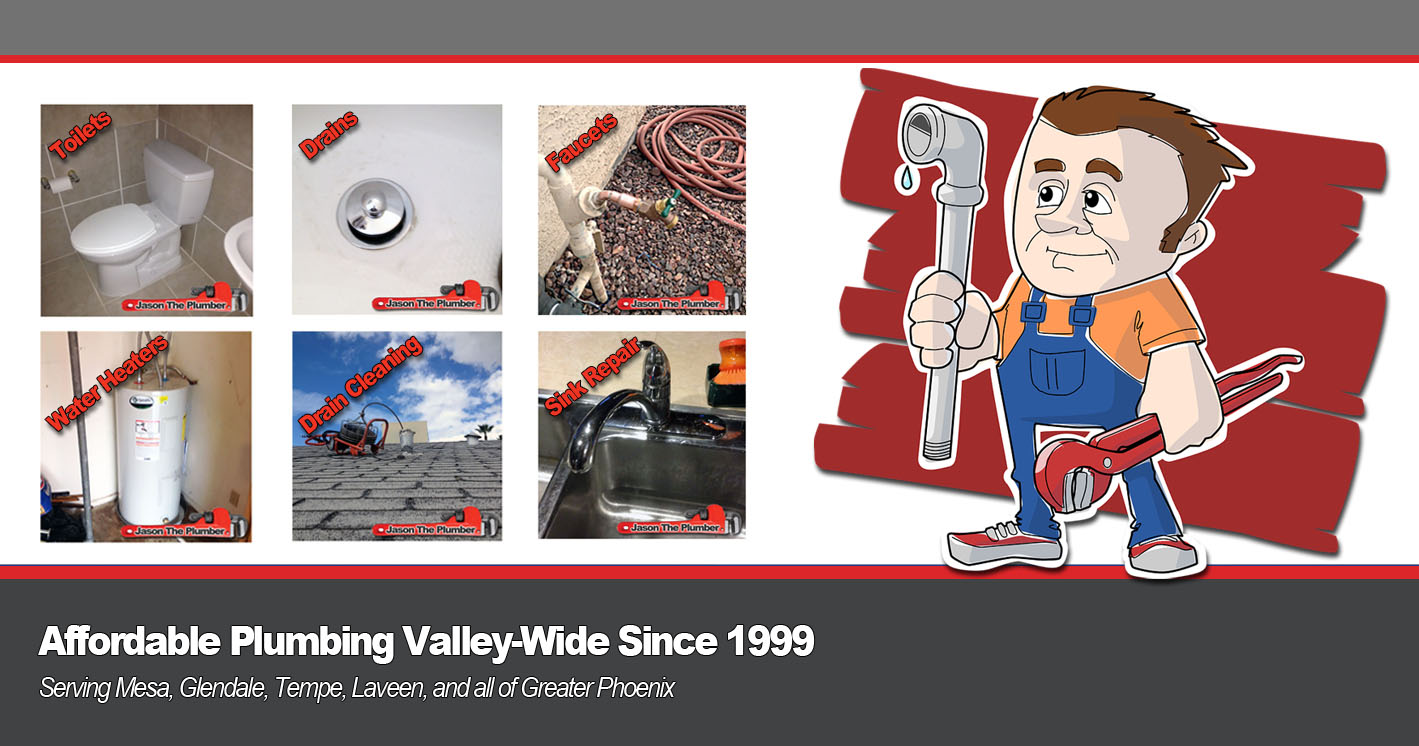 Are you searching Google for "Plumbing Services Maricopa" or "Plumbing Services Laveen"? If so, you must live in one of these cities, are having some kind of plumbing problem and are now looking for plumbing services to repair your plumbing issue.
No matter what type of plumbing problem you have, Jason the Plumber can fix it. Give us a call today at (623) 734-8072 or (480) 834-3373 to Schedule your plumbing repair.

Plumbing Services:

We offer plumbing repair services for every thing from dripping faucets, leaky pipes, running toilets, and low water pressure, to leaky hose bibs, clogged drains, sump pump failure, main sewer line clogs, and water heater problems,
Jason the Plumber can fix your plumbing issue fast and affordably. View the most common plumbing problems below.
Common Plumbing Problems:

Research has shown that homeowners, depending on the age of the home, will call a plumber every 3 years. This may seem like a lot, but there are others out there that will call them once a year.
There are various types of plumbing problems, but plumbers are often asked if it is a common issue. Although they seem to see a variety of plumbing issues from small to big, we have generated a list of the common problems that are seen in homes.
Dripping Faucets:

Okay, let's be honest we have all had a dripping faucet in our homes and we have most likely ignored it for a bit. That dripping faucet is not only wasting water, but it is wasting money on that water bill. You can use our drip calculator to see how much that drip is costing you.
Leaky Pipes:

Although we see a lot of leaking pipes during winter, it is common year round. Many pipes will begin leaking at their joints, so keep your eye out for any type of wet spots on the ceiling or ground. Water damage that happens to your home can be expensive, so you need to fix a leaky pipe right away.
"We heard about Jason through a mutual friend.  Not only did we have leaking pipes out in front of our house, but one of the valves there was just about shut and sealed off water from an entire wing of our house.  Jason got right on it and repaired the broken valves we had quick.  He was great to work with and his prices were very fair.  He even gave us a one year warranty on parts and labor.

Before meeting Jason, I called another (apparently highly Yelp rated) plumber about the problem of the water not working in part of the house, and I kept getting advice from them about checking the screens on the faucets or whatever.  Jason didn't give me this BS–he just solved our problem.

Here's another small, local business that I can recommend to you, and I couldn't recommend it more highly.  Got a plumbing problem?  Call Jason." Matthew D.
Running Toilet:

A running toilet may waste up to 200 gallons of water daily. That is a lot of water. Check out this blog to see why this leak can be expensive.
"We had an upstairs toilet that would cause water to leak out a light fixture in our kitchen downstairs whenever the toilet was flushed.  One plumber I called was concerned it would be a bigger issue and recommended I call Jason in case it was.  He came out the same afternoon that I called.  He did a great job repairing, was very quick and efficient, and I was impressed that the price was so reasonable.  Glad to have a plumber to call on when I need one in the future!" Claire K. 
Low Water Pressure:

A lot of older homes will have low water pressure, but why? It may be time for a new showerhead or there may be a hidden leak in the home. Although, those are just a couple of reasons for low water pressure.
Leaking hose bibb:

Having a leaking hose bibb is quite common in summer and spring. After a cold winter, most hose bibbs that haven't been protected can crack and then leak. It is advisable that you invest in frost proof hose bibb that will reduce your chances of having a leak.
Clogged or slow drains:

You should stay away from those over the counter drain cleaners. You should call a plumber for a slow or clogged drain. Just follow these regular maintenance steps to keep those drains running like they are supposed to. View our drain cleaning services.
Sump Pump Failure:

Having a prolonged time where there is heavy rain may cause a sump pump to fail. You should protect your home and belongings with these tips.
Water Heater:

If you wake up early to hop in the shower, only to feel ice cold water, it is a pretty bad feeling. The average life of water heaters can be from 8 to 12 years depending on maintenance. It doesn't matter if the plumbing is common or not, we will be able to handle anything.
So, take care of that clogged drain, leaky faucet, or other plumbing problems just call us or schedule your appointment online. We will be here to provide you with same day service all week. View our water heater repair services.
Main Sewer Line Clogged or Broken

Main sewer lines usually clog due to water back up out of plumbing system or drain. These sewer clogs make a gurgling sound that will usually be heard coming from your drains. Other signs of sewer line problems include toilet bubbling, water backing up from your shower or tub when your flush your toilet, or water gurgling from your water faucets. View our sewer line repair services.

Schedule Your Plumbing Services

Give us a call today at (623) 734-8072 or (480) 834-3373 to schedule your plumbing repair services in Maricopa, Laveen, or The Great Phoenix Valley. Also, prevent plumbing emergencies by receiving a professional plumbing inspection.